Ben's Bells Kind Campus
"The mission of Ben's Bells is to inspire, educate and motivate each other to realize the impact of intentional kindness and to empower individuals to act according to that awareness, thereby strengthening ourselves, our relationships and our communities."
Kindness Day Coming Soon!
Kindness Day Coming Soon!
This year, we will hold our 4th Annual Kindness Day in November. All students will participate in three different centers, which depending on grade levels, include writing letters to soldiers overseas, making cards for patients in local hospitals and making decorations for local nursing homes. Students will read books on kindness, talk about diversity, make kindness bags, write thank you letters to the Tucson Police Department and many other activities. We are proud that Lineweaver participates in this school-wide event, which not only benefits the students, but our community as well.
Community Service Projects
Each month, a different grade level will sponsor a local agency. Agencies include Youth on Their Own, Our Family Services and Emerge, to name a few. Students and families will bring in donations that each agency needs for that specific month.
Monthly Kind Kid Recognition
Each month, our teachers select one student from their class who has demonstrated kindness throughout the month. These students are recognized at our monthly community gathering the first Wednesday of the month.
Kindness Ambassadors
Our Kindness Ambassadors are students who meet monthly to talk about kindness and to do kind activities. Last spring, our Ambassadors sponsored a book drive which brought in over 200 books that were donated to the Pediatric Unit at UMC. They also came up with the ideas for the posters that are displayed throughout the school which reminds us that we are a Kind Campus. This year we have over 60 ambassadors and they have taken the pledge to work hard to spread kindness. Any student is eligible to be a Kindness Ambassador as long as they have parent permission and complete an application. They also must commit to attending our monthly meetings.
What Can You Do as a Family to Support our Kind Campus?
*Stress the importance of being kind to each other
*Recognize & reinforce when your children are kind
*Share and role model various ways to be kind
*As a family, discuss how kindness helps families, schools, communities and our world.
*Read books together on kindness and as a family discuss them (let us know if you need some suggestions).
Working together we can make a difference!
How to Get Involved
If you would like to volunteer or have ideas on how to support our Kind Campus program, please leave a message at the office (520-232-7700) and someone from our Ben's Bells Kind Committee will get back to you.
You can also email Bridgette Gomez-Munoz -
Contact Ms. Gomez Munoz by email
.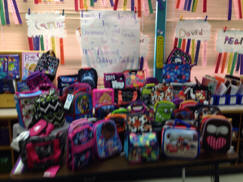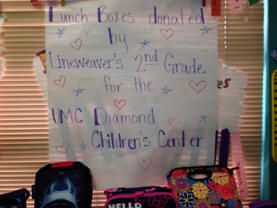 "When you are kind to others, it not only
changes YOU, it changes the world."
Harold Kushner
Lineweaver is Fortunate to Participate in the Ben's Bells Kind Campus Program
The Reasoning Behind Ben's Bells Kind Campus
Abundant research demonstrates that the practice of intentional kindness benefits all of us, no matter our age. Kind Campus focuses on students in K-12 schools, and it also focuses on the faculty and administrators who support and lead students through their education. When we do not include adults on school campuses, we miss out on a tremendous opportunity for increased self-awareness and personal and professional growth. By acknowledging that 'we're all in this together' and that all of us can improve our kindness skills, we allow the vulnerability that makes us relatable role models for students.

Kind Campus is an innovative school-based outreach program that strives to educate students, families, faculty and staff about the benefits of kindness, and then empower them to create a culture of kindness in their school and beyond. Participating schools receive access to Ben's Bells Kind Campus Program with easy to incorporate ideas and materials. The program is provided at no cost to schools and is designed to be highly adaptable for different ages and needs." Ben's Bells Website
What Does this Mean for Your Child?
Your child will participate in various activities throughout the year to reinforce the importance of intentional kindness. Through classroom discussions, presentations and community service projects, students will understand how their acts and words of kindness make a difference in our world.